You'll Be the Death of Me wasn't a perfect book by any means, but it sure was addictive as heck!
Reminder: this is a SPOILER REVIEW, so if you have not read You'll Be The Death of Me and plan to, you might want to click off… now. (But maybe check out some of my other reviews? Please?)
About The Book:
Title: You'll Be the Death of Me by Karen McManus
Author: Karen M. McManus
Published: 2021
Genre: contemporary, mystery/thriller
Rating: 3.5/5
The Premise:
Synopsis (from Goodreads):
"Ivy, Mateo, and Cal used to be close. Now all they have in common is Carlton High and the beginning of a very bad day.
Type A Ivy lost a student council election to the class clown, and now she has to face the school, humiliated. Heartthrob Mateo is burned out–he's been working two jobs since his family's business failed. And outsider Cal just got stood up…. again.
So when Cal pulls into campus late for class and runs into Ivy and Mateo, it seems like the perfect opportunity to turn a bad day around. They'll ditch and go into the city. Just the three of them, like old times. Except they've barely left the parking lot before they run out of things to say…
Until they spot another Carlton High student skipping school–and follow him to the scene of his own murder. In one chance move, their day turns from dull to deadly. And it's about to get worse.
It turns out Ivy, Mateo, and Cal still have some things in common. They all have a connection to the dead kid. And they're all hiding something.
Now they're all wondering–could it be that their chance reconnection wasn't by chance after all?"
My Thoughts:
Okay. So.
I definitely had fun reading this book, and as per usual, devoured it in a day. The writing was simple and to-the-point.
The characters definitely were similar to those of previous books McManus has written (Ivy is pretty much a carbon copy of Bronwyn from One of Us is Lying), and weren't all that deep or complex, but character depth is not necessarily something I look for in mystery novels. In books like this one, the plot tends to take center stage.
Before this review gets too boring, let's jump into spoiler-y territory….
Why is it always the teachers? Literally why, in every single YA thriller I read, after all red herrings have been disproved, it ends up that the nice, helpful, innocuous favorite teacher has been sleeping with students and/or murdering other students the whole time. Anyway, in this one, I appreciated that after exposing Cal's misguided relationship with Ms. Jamison, McManus included some commentary on how usually women are not thought of as predators even though they can also be. It is usually male teachers, but this one turned the trope on its head.
There were some plot points in this book that were extremely contrived and deus-ex-machina— I mean, come ON, you're telling me Boney's password just so happened to be "Brian"? And the reasoning behind why Ivy decided to skip school and make all her other decisions were just a bit, welll..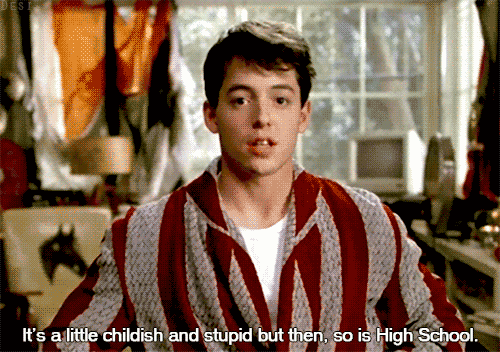 Oh yeah, the book is kind of based on Ferris Bueller's Day Off, a movie which I have seen one time and remember primarily for the theme song, but there were some nods to it throughout the book and that made me want to go write a book inspired by my favorite books because ya know, that just seems like a fun thing to do.
The main criticism I have for this book is that I wish we got more exposition of the three characters.
The first three chapters were very formulaic and quite info-dumpy ("HERE is one of the three main characters, THIS is his/her main conflict/character arc setup and BE INTRIGUED by this cryptic sentence that alludes to this particular character's JUICY PLOT SECRET which will be revealed around the middle of the book to raise tension.")
Ivy, Cal, and Mateo's first chapters all follow this, and each of these characters have a main conflict and a main secret which are resolved/revealed as the story progresses.
Ivy's main conflict is her issues with her brother Daniel (who was just a horrible person, I am sorry), and her main secret is spilling the baby oil on the bowling alley floor.
Cal's main conflict is his ~romantic troubles~ and his main secret is the fact that he's dating the art teacher, a trope that, again, is used very often in these kinds of books.
Mateo's main conflict is his family's financial situation and his main secret is Autumn selling drugs.
We've got these qualities to define the characters, yet, we barely get any glimpse into their lives before the main action of the book gets going.
We also never see any of Boney Mahoney until he dies, and even then, we just see that he's dead. His personality is told to us entirely by Ivy and the other characters. Sure, he's not a main character, but as the murder victim, it would have been good for more page time to be devoted to developing his character. Without this, his death has no impact on the reader and the additional tension that would have been created in the reader while Ivy, Mateo and Cal tracked down the killer is lost.
The Verdict:
This book definitely had its share of flaws and unbelievable moments, but for pure enjoyment, I would recommend it to someone looking for a fun and entertaining story to read on a Friday night.
Other Books By Karen M. McManus:
Read my review of One of Us Is Lying
Have you read You'll Be The Death Of Me by Karen M. McManus? Have you read any of her other books? Which is your favorite? Let me know in the comment section!
If you liked this post, consider subscribing to Frappes & Fiction. I post about the books I read, the books I think YOU should read, and anything else on my mind.
I'm also on social media!